Leading in Cannabis Education
UConn made waves in 2019 when it announced it would begin offering the nation's first university class on the fundamentals of cannabis horticulture. Since its launch, over hundreds of students have taken "Horticulture of Cannabis: From Seed to Harvest," which provides essential training and hands-on opportunities in the emerging industry. The course was developed in response to student demand, and has recently expanded to include both basic and advanced courses. Non-degree students are also eligible to enroll, allowing people from all over the world to learn about different grow systems from international experts in the field.
First in Nation
University Cannabis Horticulture Course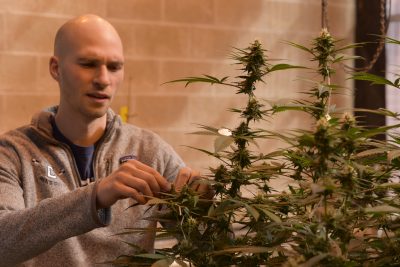 Building a Budding Workforce

More states are legalizing recreational marijuana. That means growth, that means jobs.
Peter Apicella, graduate student
Internship Opportunities
A unique hallmark of cannabis scholarship at CAHNR is the connection between faculty, their students, and jobs in the cannabis industry. Thanks to the College's status as a national and regional leader in cannabis horticulture, we have developed a robust program of cannabis industry internships to help students break into this emerging field. In need of qualified employees with very specialized knowledge in cannabis production, processing, and testing, licensed cannabis companies seek out UConn students, who have consistently been offered high paying jobs upon graduation. To learn more about internship opportunities, contact Dr. Gerald Berkowitz.
Course Offerings
Undergraduate courses:
Horticulture of Cannabis: From Seed to Harvest
SPSS 3995, Horticulture of Cannabis: From seed to Harvest, a three-credit on-line course. A scientifically rigorous course that provides an overview of the complete growing cycle of cannabis.
Independent Study Opportunities: available upon request. Contact a member of our team for more information.
Accurate testing for licensed growers through UConn's Center for Environmental Sciences and Engineering (CESE).
Connect with Us
Need help from a UConn researcher or extension educator? Connect with us for resources and expertise to assist industry or licensed growers.